Dr. Alan M. Blum, D.C.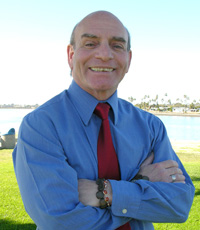 I, as a treating physician, am licensed as a chiropractor, but it became apparent to me that structural problems were not the only cause of illness or "Dis-Ease". 
I take a mufti-faceted approach to healing the body. I use chiropractic and multiple manual muscle testing techniques. I use these techniques first to find out what needs to be corrected and then make the corrections necessary. 
Most of the different techniques that I use, are based on the five element theory of acupuncture meridian theory and the process is simple! Though I do not use needles, these techniques would more accurately be described as acupressure techniques. If the problem is structural I simply touch the involved joint to do a simple muscle test on any strong intact muscle.

If that previously strong muscle goes weak then a structural correction is needed! The direction can also be determined by pushing in different directions on the joint and muscle testing until a weak muscle test occurs indicating the joint needs to be corrected in the direction that was indicated by the weak muscle!  
Physiological corrections are made by testing acupuncture points for different organ or gland functions.For instance if I wanted to test liver function I would hold a flat palm length-wise under the rib cage on the right side, which is a liver point, which happens to be where the liver physically is, if doing a muscle test gets a weak muscle than the liver is not functioning properly and doing a specific tapping on the spine will correct the functioning of the liver. When liver is retested it will now test strong! 
There are all kinds of points on the body. Some are for: 
Physiologic function, as liver above.

Nutritional and would indicate the need for nutritional support

Emotional and can help in doing emotional corrections.

There are points to help electromagnetic disturbances in the body

ETC…
The long and short of it is that by doing these corrections when the body indicates they are needed (indicated through Manual Muscle Tests) the corrections affect the acupuncture meridians thus affecting the energy field of the body and allowing it to function better and heal.